​We promote slow fed, free-choice hay (forage) with multiple locations to encourage movement. Why? Because movement and access to forage are crucial elements necessary for a happier and healthier horse!
Horses are designed to graze/forage 16-20 hours a day - ingesting small amounts as they move from place to place. It is possible to mimic the horse's natural lifestyle – to
allow free choice forage
and
slow consumption
, while
encouraging movement
– in almost any environment and weather condition. The mental, emotional and physical benefits of a more natural lifestyle are numerous.
We hope the following tips for introducing and incorporating free-choice forage will help you achieve a more natural lifestyle for your horse or herd. Next, visit our
Slow Feed Solutions By Enclosure Type & Weather Condition
and
Slow Feeder Product Comparison Chart
to explore the slow feeder hay bags, nets, and grazing muzzle options for your unique needs.
Have questions?
Email an Expert
or call us
888-489-0022. We're here to help!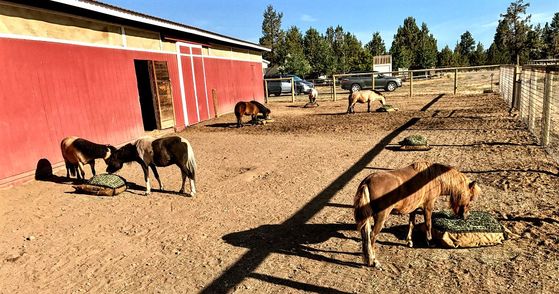 Free-Choice Forage Action Plan

Why Should I Implement Slow Feeders?
Weight management
: Hay is grass with the water reduced; each mouthful is a more concentrated source of calories. Hay contains seven to eight times more calories than live grass
per pound
. Grass is 70 to 80% water as opposed to sun cured hay at 5 to 10%. If your horse is overweight, slow feeding will help to regulate insulin spikes, metabolism, and
secretion of cortisol
. For underweight equines, it can help
increase digestion
and assimilation of calories and nutrients.
The equine stomach produces acid 24 hours a day in preparation for constant forage intake and can empty in as little as 15-20 minutes. Chewing activates saliva production (an alkaline substance), which buffers gastric acid.
The average equine produces 16 gallons of gastric acid per day; the stomach only has a 2-4 gallon capacity!
The lower part of the stomach, in addition to producing the acid, receives protection by also producing mucous. The upper portion has squamous epithelium – similar to our skin and has no protection making it more susceptible to damage.
For the majority of horses transitioned from meals to appropriate slow fed free choice forage with multiple locations, a balanced diet and routine exercise
can eat more and maintain (increase muscle/decrease fat) or lose weight
.
Additional benefits of free choice forage and slow feeding include:
Reduces risk of ulcers and colic
Increases chew time & digestion
Decreases stress associated with meals and isolation

Minimizes or alleviates boredom
Little to no wasted hay
More Helpful Slow Feed Resources

---
Stay Connected