>

Manger Hay Pillow® Horse Trailer Hay Bag
Manger Hay Pillow® Horse Trailer Hay Bag
SKU:
65.99
75.99
$65.99 - $75.99
Unavailable
per item
Allow your horse easy access to "graze" during travel - while alleviating hay waste - with the Manger Hay Pillow®. Keeps hay off the floor and out of your horse's eyes. Fits both slant and straight load mangers. Available in 2 mesh sizes! Prices vary according to mesh size. Manger Hay Pillow® adjustable straps are sold separately.
​Horse Trailer Hay Bag - Rectangular Feeder for Trailer Mangers
​Designed to

contain hay in a horse trailer

manger - and

keep it off the floor

and

out of your horse's eyes

. Easy to load and secure. Five tabs are included on the bag to easily secure it in place. See o

ur

Manger Hay Pillow® Adjustable Straps

(sold separately).

Great for

slant and straight load mangers

!

The Manger Hay Pillow® conforms to a myriad of horse trailer manger dimensions and shapes.

Our

Hanging Hay Pillow

is a great choice when your horse is tied outside to the trailer or high-line.​​
Choose from 2 Mesh Sizes

4" x 6" - Recommended if you load your bags with alfalfa - or - if your horse is not accustomed to a slow feed hay net with a 1 3/4" or smaller mesh size.
1 3/4" x 1 3/4" - Recommended if your horse is accustomed to slow feeding hay bags or nets with a 1 3/4" mesh size or smaller - and - you load your bags with grass hay.

Transport can be stressful for horses. P

lease

choose a mesh size you are confident

your horse will be able to easily extract hay from. Frustration increases stress levels.

Questions?

Contact an expert by

email

or call

888-489-0022

.
Easy Fill & Top Features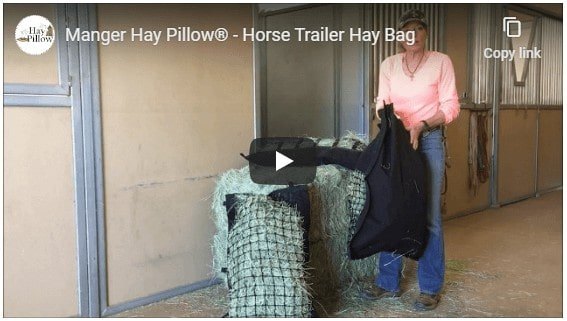 ​No Metal Hardware to Damage Your Manger

There is no metal hardware on the bag to prevent damage to the manger. Our
Manger Hay Pillow® Adjustable Strap
(sold separately) was designed exclusively to secure your
Manger Hay Pillow®
. Order yours TODAY!
​Rugged & Designed to Last - Constructed with Made in the USA Materials
The
Manger Hay Pillow® Horse Trailer Hay Bag
is constructed from the most rugged materials - all proudly
manufactured in the USA
:
500 denier nylon CORDURA®
YKK® zipper
Heavy weight webbing - netting

​How to Secure Your Trailer Manger Hay Pillow to Keep It in Place

To keep your

Manger Hay Pillow®

in place,

secure at least two corners

with our

adjustable straps

(sold separately). Depending on your horse's personality, it may be necessary to secure your Hay Pillow by more than two corners to allow for continuous feeding. There are a total of

5 attachment tabs included on the bag

.

If not secured properly:

It can slide out and over the front edge of the manger.

It can potentially be flipped over so that the solid back faces up.

Our

made in the USA straps

(sold separately) contain

no metal hardware to scratch your trailer

and were

designed with safety in mind

. The straps thread easily through the tabs of your

Manger Hay Pillow

.

No Manger or Attachment Site?
​If your manger does not have an
attachment site, install eye straps.

Tips For Hydration:
To help keep your horse hydrated during transport, drench your hay with water, let it drain and use the 4" X 6" mesh size. Wet hay may be too challenging to extract from the 1 3/4" mesh size.
Take water from home and offer along the way (horses that are reluctant to drink water may be even more reluctant to do so if the water tastes different). If you can't take water with you, start adding something to flavor the water at home in a separate bucket (to experiment with their preferred flavor) such as powdered Kool Aid® or Gatorade®. Once you discover their favorite flavor, take it with you for travel to mask the taste of unfamiliar water sources.
Manger Hay Pillow Dimensions
​Overall Dimensions:

36" L x 23" W

Mesh Sizes:

4" x 6" or 1 3/4" x 1 3/4"

Webbing Area Dimensions 4 X 6 :

30" L x 13" W

Netting Area Dimensions 1 3/4": ​ 33" L x 19" W
5 Attachment Loop Tabs: 1 1/2" L x 1" W​
Capacity: U

p to 10 lbs. of hay (in flake form)



Note:
The Manger Hay Pillow® conforms to a myriad of horse trailer manger dimensions and shapes.
​Manger Hay Pillow Testimonials
"Had to share a photo of my mare, Foxy, once again enjoying her Manger hay pillow. We used to have hay nets in the trailer but once I found Hay Pillows and bought one for the manger, I won't be using a hay net in there again. Foxy can eat her hay as we travel down the road and she really likes it."
~ Pat


"Thank you for the Manger Hay Pillow®. It's such a relief to finally have a solution to keep my horses hay in the manger, off the floor and out of their eyes. I can haul with the windows open and they are so much happier when we arrive at our destination."
~ Mariah
"Manger Hay Pillow is a great bag for hauling. My horses were so frustrated, the hay always ended up on the horse trailer floor and they couldn't eat it! Easy to load and strap into the mangers. They are happy campers and love their Hay Pillows. Thank you for designing a bag to accommodate such a unique application." ~
Theresa
"Beau will get a lot of use out of our Manger Hay Pillow! It fits perfectly in my Featherlite straight load horse trailer."
~ Robin
"As an endurance rider, getting my horses to eat as much hay as possible is a top priority, and I typically travel several hours to get to events. Previously, I would place hay in the mangers of my slant-load trailer and would be exasperated when I arrived: the majority of the hay was always on the floor. My horses were frustrated because they were hungry and couldn't get to the hay even though they could see it. Since I started using the Manger Hay Pillow, I have found that my horses will typically eat about 1-3 pounds of hay when traveling a few hours. Almost no hay is on the floor, and the uneaten hay is compactly restrained in the pillow. Further, I don't worry about hay getting in their eyes because the hay stays in the hay pillow. My younger mare in particular is a chow hound, and she arrives much more relaxed because she's been eating. She's also the one that finds a way to destroy the indestructible, and my Manger Hay Pillows are completely intact after several months. I also like to use the hay pillow as a hay bag. With a bucket strap, it connects to the outside trailer hook very quickly so that my 16+ hand mares have plenty to eat. I've been using the Manger Hay Pillow for a few months now and consider it to be a staple item. This is a much-needed accessory for anyone that transports horses in a slant-load trailer with mangers." ~
Jo
"We have this Manger Hay pillow in the 4x6 opening and love them!! We are full timers traveling with our 2 horses...no brick and stick house! Our Hay Bags have been used for almost 4 years and are still holding up well! ~ Lee Ann​"What a wonderful product. I love the Hay Pillow Manger for my horse trailer going from barrel to trail riding my ponies need to munch and are much happier that they can. My favorite part of the Manger large squares is that I'm in AZ so I have my drop down windows open. Regular hay nets blow around and I loose a great deal of hay!"
~ C.J.
"I love mine. Stopped all that loose hay on the floor of the trailer. It also helps with choke...Small bites. And keeps them entertained longer."
~ Sally
Read More Reviews
---
Need Help Choosing?
| | | |
| --- | --- | --- |
| Find recommended hay bags to take along while you are on the road! See how versatile Hay Pillows® are. | Get tips & guidelines. Learn how to choose the best mesh size based on your horse's personality & experience. | Find recommended slow feed solutions by enclosure type & weather condition. Compare slow feeder products. |
---
​Hear About $ales, Nutrition Tips & Giveaways
​Sign up for our monthly newsletter to hear about giveaways, sales and equine health and nutrition news for healthier, happier horses.

---
​You May Also Like