​Innovative Slow Feed Hay Bags, Nets, Toys & More

Supporting A Natural Lifestyle for Happier, Healthier Horses

What Makes Hay Pillows® So Unique?

Only slow-feeder hay bag designed for ground feeding. Allow your horse or Mini to eat in a natural grazing position.
Easy to fill & transport. Place in multiple locations to encourage movement.

4 styles Ground Standard & Mini, Hanging & Horse Trailer Manger (Standard & Mini models for unshod horses only)

4 mesh sizes ( 3/4", 1", 1 1/4" and 1 3/4")
Our netting is made & mounted on the square so the opening size stays consistent regardless of how full the bag is
Interchangeable netting panels to change mesh size (Version II)
Less wasted hay with solid-back, durable design
No more cheating - closures only allow access to hay via netting
Machine washable & Made in the USA!
Helpful Resources:

Horse Slow Feeder Safety Tips
- Slow feeder safety is important. The vast majority of incidents stem from unintentional pilot error.
Eliminate or greatly reduce the possibility of injury to teeth, lips & gums or entanglement with these
tips for choosing and using slow feeders
.
---
See How it Works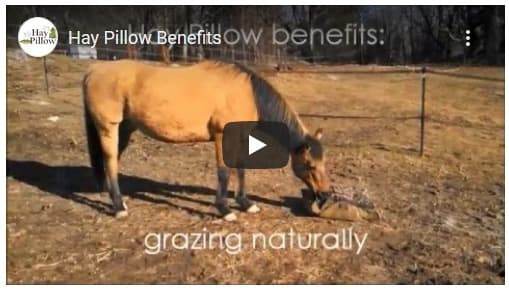 Top Features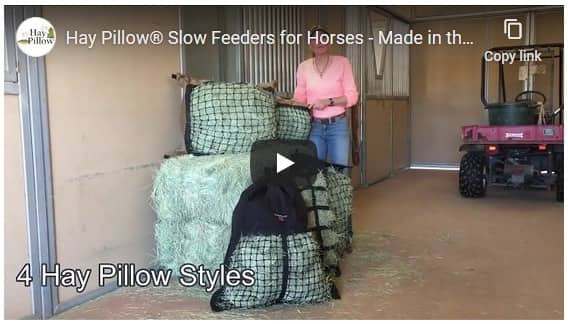 ---
Why Our Customers Love Hay Pillows®
Allows hay to last longer - keeps horses nibbling, which helps prevent ulcers and colic and reduces boredom
Helps with allergies or respiratory issues – keeps hay out of the dust, sand and your horse's eyes.

Enables nasal passages to drain effectively.

Helps neck or back issues caused by high or hanging feeders
Can prevent imbalances in teeth wear or jaw – feeding at ground level allows the mandible to articulate unobstructed; forward to back and side to side
Solid back design eliminates scattered hay and allows feeding of hay in boarding barn paddocks
Helps simulate natural grazing and encourage movement when used to create multiple feeding stations without the need for hardware or attachments

---
A Hay Pillow® for Every Use
Slow Feed Nets & Grazing Muzzles
| | |
| --- | --- |
| Safety & Emergency ID Tags | Slow Feed Toys & Books |
---
Recommended by Veterinarians, Dentists & Nutritionists

"As an equine veterinarian and dentist, I highly recommend the Hay Pillow to my clients. I use them for my personal horses and have been really pleased. I prefer to feed my horses in correct anatomical position - on the ground! They are durable, and keep my horses with hay for hours at a time with no mess/discarded hay. When they get dirty, we just throw them in the washer! Excellent product."
Diane Febles, DVM, CVA - Georgia Equine Dentistry & Acupuncture​
"​I am a veterinary surgeon who has recently switched his focus from general practice to specialize exclusively on horses' feet and to concentrate on studies and research into laminitis. There are great benefits in 'slow-feeding' horses and I have witnessed just how effective The Hay Pillow® is. I am also impressed with the quality of the product. I would recommend The Hay Pillow® to all horse owners."
John G. Stewart, MA Vet MB MRCVS
& Author,
Understanding the Horses Feet
"We enjoy recommending TheHayPillow.com for offering free-choice forage in areas where pasture isn't available."
Independent Equine Nutritionist
Juliet M. Getty
,
Ph.D. & Author
,
Feed Your Horse Like a Horse
and
Spotlight on Equine Nutrition Book Series Books
Read Customer Reviews >
---
Hear About $ales, Nutrition Tips & Giveaways
​Sign up for our monthly newsletter to hear about
​giveaways, sales and equine health and nutrition news for healthier, happier horses.


---
We promote slow fed, free-choice forage in multiple locations to encourage movement!

Questions?