>

Hanging Hay Pillow - Small Mesh Hay Net Alternative
Hanging Hay Pillow - Small Mesh Hay Net Alternative
SKU:
74.99
83.99
$74.99 - $83.99
Unavailable
per item
The Hanging Hay Pillow® slow feeding hay bag is the best alternative to small mesh hay nets. Its durable, solid back design better contains the hay and minimizes waste. Wide and low netting offers your horse, pony, or goat more access to the hay and encourages a more natural eating position with the head down or lowered. A customer favorite for eating at trailer side or as a suspended slow feed choice at home. 3/4", 1", 1 1/4" and 1 3/4" mesh sizes. Prices vary according to mesh size. Not appropriate for horned livestock.
​Hanging Hay Pillow - ​Low Netting Lets Your Horse Eat in A More Natural Position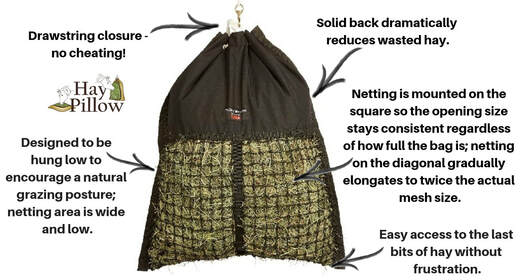 The
Hanging Hay Pillow®
was designed to be hung as low as possible from the ground (barefoot horses) - therefore, the netting area is wide and low. This
encourages a
more natural eating position
with the head down or lowered. Allows your horse, pony, or goat easy access to the hay and enables them to utilize the entire netting area. F
or shod livestock hang them high enough so the horse cannot paw at it.
Our netting is
made and mounted on the square so the opening size stays consistent
regardless of how full the bag is. Netting on the diagonal gradually elongates to twice the actual mesh size.
We recommend using
swivel clips
(as shown in the photos below) - so that the bag won't twist, just the clip.
---
​Choose from a Variety of Mesh Sizes
The
Hanging Hay Pillow®
is available in a variety of small and not-so-small mesh sizes:
3/4", 1", 1 1/4" and 1 3/4"
to suit you and your herd's needs. It is appropriate for any size horse, pony, goats, llamas and alpacas. Contact an expert 888-489-0022.
​New Customers:
1 ¼" and 1 ¾" are the most popular mesh sizes.
1 ¼";
some
horses will be able to extract hay and slow them down considerably. However, it can be too challenging for some, which is why we offer the 1 ¾".
Smaller mesh sizes do not necessarily equate to your equine eating slower
- they may not be able to eat at all.
Questions on Mesh Size
?
C
ontact an expert by
email
or call
888-489-0022
.
Hanging Hay Pillow Dimensions

​Overall Dimensions: 36" L x 28" W
Netting Area Dimensions: 17" L x 26" W
Volume: Holds up to 8 lbs. of hay
Mesh Sizes: (3/4"), (1"), (1 1/4") and (1 3/4")
​​Hanging & Mounting Tips for Over Eager Eaters
The best method for mounting a
Hanging Hay Pillow
for voracious (over eager) eaters is to suspend it. Hang from a tree limb (away from the trunk) or rafters in the stall.
Slide a piece of PVC pipe over the rope
to avoid entanglement and attach a
swivel clip
at the bottom. If there is nothing solid behind the bag, they can't push on it to grate their teeth across the netting. This also makes it more challenging.
​Secure the swivel clip facing the back of the bag. ​
If the bag is empty or low and your horse flips it upward, the netting won't get caught in the sliding mechanism of the clip.
​More Alternatives for Over Eager (Voracious) Eaters

​Hanging Hay Pillow Testimonials

"
Gandalf just got his new
hanging hay pillow
, and we love it! His
vet recommended that we try the hay pillow
to slow down his eating a bit. I love that it's easy to load with hay and Gandalf loves playing with it and unloading the hay. " ~Adrienne
~

"When in her stall or trailer, my Canadian mare only gets her hay in a Hanging Hay Pillow. She's like a Hoover vacuum and sucks up her hay way too fast without it! 1 1/4" mesh is perfect for her - small enough to slow her down without frustrating her."
~Susan ~

"Love the Hanging Hay Pillow. It's perfect for inside and outside my horse trailer and allows my guy to nibble all day while we're traveling. He wears horseshoes so I hang it from a tree at home. It's amazing how little hay ends up on the ground, must be the solid back!"
~Rachel~
"Perfect pillows for my baby! The hanging hay pillow I put in Rosie's stall and use it in the horse trailer. It's a great size. She also has a Standard Hay Pillow in her paddock. She loves to walk back and forth eating little bits at a time going inside and outside. I'm ordering another so she can have 3 locations to eat from. She loves walking and eating, walking and eating. Never really thought about it but it is what they do when they graze! Incredible product, thanks so much."
~Jackie~
"

​I love this

bag for my goats
. They now have hay available 24/7. I no longer have to spend time cleaning up wasted trampled hay or go out to feed early in the morning." ~Diane~
"My little herd of four love their hay pillows! I find the hanging ones very useful when I turn them out in my arena . We have a small property in the middle of Dallas and I have to manage the grass. Having hay pillows tied to the arena fence allows my little herd to graze even though they are not turned out in the grass areas."
~ Dominique ~
"I purchased a hanging hay pillow as an additional tool for one of my horses who has experienced recurring colic. In adding this slow feeder for hay to her overnight medical and feeding regime, we have made some progress in keeping her digestion in check. The quality of this product quite high, is such that it has lasted the test of time, something I appreciate given the medical expenses."
~ Terri ~
"The Hanging Hay Pillow has made a huge difference in how less anxious she is now that she has available hay at all times. Its wonderful!"
~ El
"Loving the new Hay Pillows and the Hanging Hay Pillows for my horses' Paddock Paradise track. I have various types and textures of grass hay, so really appreciate the several options of mesh sizes. They'll be wonderful in helping my haflinger recover from laminitis. Thank you."
~ Tamara D.
Read more Reviews
---
Need Help Choosing?
| | | |
| --- | --- | --- |
| ​​Get tips & guidelines. Learn how to choose the best mesh size based on your horse's personality & experience. | ​Find recommended slow feed solutions by enclosure type & weather condition. Compare slow feeder products. | ​Find answers to frequently asked questions about all of our products. |
---
​​Hear About $ales, Nutrition Tips & Giveaways
​Sign up for our monthly newsletter to hear about giveaways, sales and equine health and nutrition news for healthier, happier horses.
---
​You May Also Like